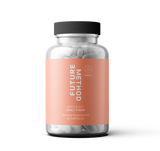 Future Method Butt & Gut Fiber Supplement
Speed up and simplify playtime prep with the dietary supplement that encourages a complete, consistent, ready-for-anything feeling – a treat for tops, bottoms, and all butt types. In just two capsules, this booty-loving blend of ingredients helps support the natural digestion that not only improves the effectiveness of your cleansing routine, but whole-body health, too.
How it works:
Helps firm up the stool + increase the chance of a clear colon in a single movement
Naturally relieves unwanted constipation and reduces straining
Assists the body in the creation of a smooth, ah-inspiring, bulky mass
Promotes the growth of healthy intestinal bacteria to support gut health
Supports your diet with a feeling of fullness
Unique features:
Fibregum™ Formula - Derived from gum sap exuded by acacia trees, Fibregum™ soaks up water in the gut like a sponge and makes for easier passings. In contrast to supplements relying only on psyllium husk, just 2 capsules are needed vs. the typical 4-6.
Peppermint Leaf Powder - Known to help relieve digestive symptoms such as gas, bloating, and indigestion – this hybrid mint helps promote regularity without increasing any unflattering flatulence.
Fructooligosaccharides (FOS) - Bifidobacteria in the intestine helps support gut health. To encourage their growth, we included these naturally-occurring wonders found in plants such as chicory, banana, and artichoke, among others.
Ingredients:
Fiber Plus Blend (Inavea™ Organic Talh (Acacia seyal) Gum Powder, Peppermint Leaf Powder, Psyllium Seed Husk Powder, Fructooligosaccharides (FOS)), Dicalcium Phosphate, Croscarmellose Sodium, Magnesium Stearate, Silicon Dioxide, Stearic Acid, Pharmaceutical Glaze (Shellac, Povidone).
You might also like